Montpellier 2 Column Cast Iron Radiator - 590mm High - 3 Sections
Quickfind Code: 61622
SKU:
MONT-590-03
Shaftsbury Cast Iron Radiator - 540mm High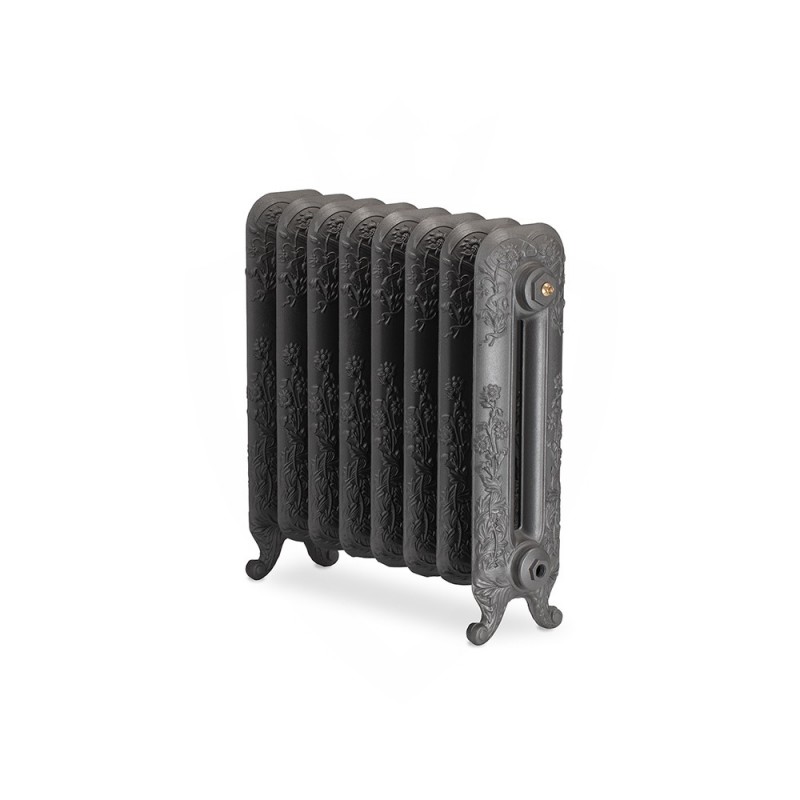 
The Montpellier Old Style Cast Iron Radiator
Inspired by the daring simplicity of daisies to bring beauty to any room
The Montpellier old style cast iron radiator, also known as the "daisy radiator", is an alluring decorative style cast iron radiator. The Montpellier's origins lie in France in the late 1890's. The seductive design emits romance with its delicate daisy and ribbons pattern, which flows from the ornate foot of the radiator to the top.
The Montpellier lends itself well to a hand-painted highlight finish or a hand-polish effect, which only serves to accentuate and add more charm to this cast iron radiator – a genuinely captivating centrepiece for any room.
| No. Of Sections | Length mm | BTU's | Watts |
| --- | --- | --- | --- |
| 3 | 249 | 1026 | 301 |
| 4 | 315 | 1368 | 401 |
| 5 | 386 | 1710 | 801 |
| 6 | 457 | 2052 | 601 |
| 7 | 527 | 2394 | 702 |
| 8 | 598 | 276 | 802 |
| 9 | 668 | 3078 | 902 |
| 10 | 739 | 3420 | 1002 |
| 11 | 810 | 3762 | 1103 |
| 12 | 880 | 4104 | 1203 |
| 13 | 951 | 4446 | 1303 |
| 14 | 1021 | 4788 | 1403 |
| 15 | 1092 | 5130 | 1504 |
| 16 | 1163 | 5472 | 1604 |
Returns policy for Paladin Branded Products
| | |
| --- | --- |
| Material | Cast Iron |
| Height | 760mm |
| BTU Output | 342 Per Section |
| Watts Output | 101 Per Section |
| Orientation | Horizontal |
| Projection | 180mm |
| Guarantee | 10 Years |
| Socket Width | ½" BSP |
| Model | Montpelier |
This is just a guide for reference only, rooms may require more than one radiator. If this applies to you, divide the required output between the number of radiators required. All figures given are for Delta T 50°